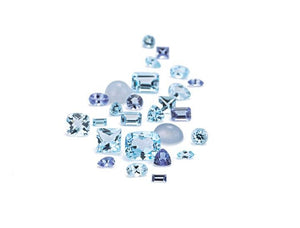 TANZANITE & BLUE ZIRCON - DECEMBER BLUES
December Birthstone Meaning Tanzanite may be a relative newcomer to the world of colored stones, but it was one of the most exciting gem discoveries of the 20 century. Blue stones emerging from Tanzania were identified as the mineral zoisite in 1962. Not until 1967, though, did prospectors locate the primary source for this December birthstone: the Merelani Hills. It was eventually named tanzanite in honor of its country of origin. The tanzanite birthstone is often described as "velvety," mostly because of its deep and saturated color, which ranges from a pure rich blue to violet, with the blue considered most valuable. The origins of the word "zircon" have elicited colorful debate. Some scholars believe it comes from the Arabic word , meaning "cinnabar" or "vermilion." Others think the source is the Persian word , or "gold colored." Considering the broad color palette for this December birthstone – red, orange, yellow, brown, green and blue – either derivation seems possible. Colorless zircon is known for its brilliance and flashes of multicolored light, called fire, which have resulted in centuries of confusion with diamond.
Where is Tanzanite Found?
The Merelani Hills of northern Tanzania is the only place on earth where tanzanite is mined comercially. Grass-covered hillsides, scrub brush, rocky soil and an occasional tree form the local landscape. In the major mechanized operations there, thousands of workers recover tanzanite from mines dug over a 100 meters (more than 300 feet) deep into the earth. North of the mines tower the snow-covered slopes of Mount Kilimanjaro.
Where is Zircon Found?
Sri Lanka's wealth of gems is legendary: Sapphire in various colors, ruby and quartz are some of the gem minerals unearthed there. So is the December birthstone zircon. Elahera, a region in central Sri Lanka, is one of the country's most productive areas. Mountains, jungles and restless streams make for a dramatic landscape.
This December birthstone is often located near sapphire sources. In addition to Sri Lanka and Australia, countries where the two gems overlap include Myanmar, Vietnam and Cambodia.
Tanzanite Birthstone Care & Cleaning
This December birthstone (6 to 7 on the Mohs scale of harness) is resistant to the effects of normal heat, light and common chemicals. Still, the December birthstone may crack if exposed to very high temperatures or sudden temperature changes, and it abrades easily. It can be attacked by hydrochloric and hydrofluoric acids.
Most tanzanite begins as brownish zoisite that is heat treated to produce the blue to violet hues that characterize this December birthstones. The resulting color is permanent, and there are no additional durability concerns.
Your tanzanite birthstone is best set in earrings or pendants.  While not recommended for daily wear in a ring, with a protective mounting and some care this December birthstone can be an attractive special-occasion jewel.
Warm, soapy water is the best way to clean this December birthstone. Ultrasonic and steam cleaners are never recommended for tanzanite.
Zircon Birthstone Care & Cleaning
Zircon ranges from 6 to 7.5 on the Mohs scale of hardness. It is commonly heat treated to produce blue and colorless varieties, as well as orange, yellow and red. The gem is generally stable when exposed to light, but some heat-treated stones may revert to their original colors (usually light brown) after prolonged exposure to bright light. Exposure to heat can alter the color of some zircon. This December birthstone is stable when exposed to chemicals.
Because zircon tends to abrade, it is best to avoid wearing it in rough conditions, such as while gardening, playing sports or doing dishes.
Clean your zircon using a soft brush and mild soap in warm water. Ultrasonic and steam cleaners are not recommended for this December birthstone.
---