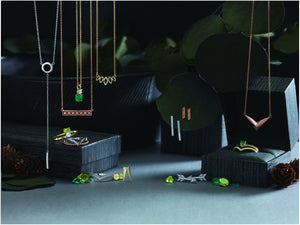 PERIDOT - VIBRANT & BRIGHT
August Birthstone History
Peridots have been steeped in myth for thousands of years. Pliny the Elder (23-79 AD), an ancient naturalist, first recorded the existence of peridot on a small island off the coast of Egypt. He originally called the stone "topazios" and described it as a gem that was commonly green but also occurred with yellowish tones. He named that island Topazios, after the gem, but it was later renamed St. John's Island or Zabargad. This island was closely guarded by the ancient Egyptians because it was thought to be the site of priceless treasures. It is widely believed that some of Cleopatra's famous emeralds were actually peridots! The Egyptians called peridot the "gem of the sun," and some thought that it protected against nightmares. It was also believed to bring the wearer confidence, power, and general good luck and health. Peridots are also closely connected to the Hawaiian culture—they are thought to be the tears of the volcano goddess Pele. The sand on the Big Island's Papakolea Beach is a rare and beautiful green hue due to a high content of crushed olivine.
Where is Peridot Found?
Peridot, the August birthstone, has an amazing story. Although most of the peridot seen in jewelry today comes from sources such as China, Myanmar, Pakistan, Tanzania, Vietnam and the United States, some journied to Earth on meteorites while others are found in exotic locales like Peridot Beach, Hawaii, where the sands shimmer a luminous green.
Arizona is the main source of this August birthstone in the United States. Massive volcanic eruptions many thousands of years ago sent rivers of lava spilling across the desert landscape of what is today the San Carlos Apache Indian Reservation, where some Apache families have worked the mines for decades.
Peridot Birthstone Care & Cleaning
With a hardness of 6.5 to 7 on the Mohs scale of hardness, peridot is softer than many gems and cannot take hard wear, so it is not recommended for daily use in a ring. This August birthstone can also be damaged by some acids and even by long-term exposure to acidic perspiration. Cleaning peridot is a delicate process. Never use a steam or ultrasonic cleaner, as your peridot birthstone is vulnerable to thermal shock. It is safest to use a soft-bristle brush with a mild dish soap in warm water. Peridot should be stored with care to avoid scratching by gems with greater hardness.
---