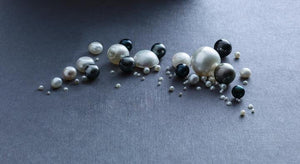 PEARL - TIMELESS AND CLASSIC
June Birthstone History
For centuries pearls were the most valuable gem. They were treasured in ancient cultures around the world, and the 1500's of Tudor England were known as the Pearl Age. Ancient Chinese cultures believed that wearing pearls protected you from fire and dragons, and other cultures have associated them with chastity and modesty. In Victorian England small seed pearls were often used in mourning jewelry to symbolize tears. In the early 1900's people in Asia discovered how to create cultured pearls by carefully placing a small nucleus into a living oyster, which then forms a pearl around the nucleus. Since the invention of the culturing technique, which allows pearls to be created in oyster farms, pearls have become less expensive than they once were. However, these lustrous gems are as beautiful as ever, whether cultured or wild-harvested, saltwater or freshwater, luminous white or one of the many other colors in which pearls naturally occur. Pearls are incredibly versatile, at once a go-to accessory for First Ladies and society matrons and beloved by cutting-edge fashion lovers like Rihanna.
How are pearls formed?
Pearls are organic gems that grow inside the tissue of a living saltwater or freshwater mollusk (either an oyster or a mussel). Natural pearls form when the mollusk secretes a substance called nacre around an irritant such as a piece of sand or a parasite that has invaded its shell. Cultured pearls are a product of human intervention. Technicians implant a piece of mantle tissue alone (common for freshwater cultured pearls) or with a mother-of-pearl shell bead (all saltwater) into a host mollusk. The mollusk covers the irritant with nacre, just like a natural pearl. Cultured pearls are raised in pearl farms – saltwater or freshwater operations where the mollusks are cleaned, protected from predators and eventually harvested. Thousands of years of pearl fishing have decimated the natural pearl beds, so cultured pearls account for the vast majority of pearl sales today. These cultured pearl birthstones come in a dazzling array of sizes, colors and shapes.
Caring For Pearls
Pearls are 2.5 to 3.0 on the Mohs Scale of hardness, so they are a comparatively soft gem and require special care. Store them separately from other gemstones and metal jewelry to prevent scratching. Never store your pearl birthstones in a plastic bag — plastic can emit a chemical that will damage their surface. Always apply perfume, hair products and cosmetics before putting on your pearl jewelry. The best way to clean your June birthstone: Use a soft, damp cloth, ideally after each time the pearls are worn.
---