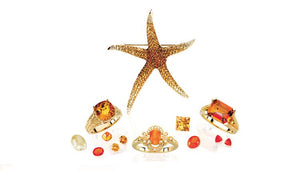 CITRINE & TOPAZ - WARM & CALM COLORS OF NOVEMBER

WHERE IS TOPAZ FOUND?
The variety of topaz hues includes colorless, light blue, yellow, orange, pink, violet, brown and, very rarely, red. The vast majority of blue topaz seen today is the permanent result of treating colorless topaz with irradiation and heating. The rainbow effect seen in "Mystic Topaz" is created by coating colorless topaz with a thin artificial film. Citrine is the transparent yellow to brownish orange variety of quartz, which has been used in jewelry for thousands of years. Citrine has been a popular gemstone since ancient times and has shared a history of mistaken identities with the other November birthstone, topaz. As a result, people thought citrine had the same powers as topaz. They believed the citrine birthstone could soothe tempers and calm the wearer.
Where is Topaz Found?
Minas Gerais, a state in Brazil, is one of the most important sources for high-quality topaz, which has been mined there for more than two centuries. Yellow to orange, red, pink, violet and blends of red with orange or purple are some of the colors unearthed here. The nearby town of Ouro Preto is a fitting companion. In this UNESCO world heritage site, majestic colonial churches checker the skyline and quaint cobblestone streets crisscross the city.
Today, other major sources of this November birthstone include Namibia, Nigeria, Madagascar, Mexico, Myanmar, Sri Lanka and the United States, as well as the historic Russian localities.
Where is Citrine Found?
The top sources for this November birthstone are Bolivia, Spain, Madagascar, Mexico and Uruguay. Amethyst that's typically heat treated to a citrine color is mined mostly in Brazil.
Topaz Birthstone Care & Cleaning
Topaz is an 8 on the Mohs scale of hardness, but it has poor toughness, so care is required to avoid chipping or cracking. To clean this November birthstone, do not use steam cleaning or ultrasonic cleaners. Warm, soapy water works best. High heat or sudden temperature changes can cause internal breaks in topaz. The birthstone's color is generally stable to light, but prolonged exposure to heat or sunlight might cause fading in some yellow-to-brown gems. Topaz may be affected slightly by some chemicals.
The coating on Mystic Topaz can withstand normal wear, but abrasive cleaners or buffing wheels will remove it. Only a mild soap solution should be used to clean a topaz birthstone treated in this manner.
Citrine Birthstone Care & Cleaning
At 7 on the Mohs scale of hardness with good toughness, your citrine birthstone is usually durable enough for normal wear and care. It can be safely cleaned with warm, soapy water. While it is usually okay to clean your November birthstone in an ultrasonic machine, steam cleaning is risky since high heat could cause the stone to crack.
---